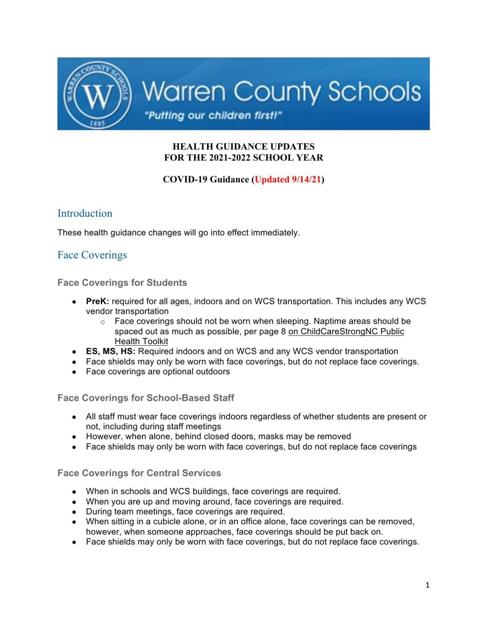 WCS Updates Health Guidelines for Daily School Operations | New
Schools in Warren County have updated guidelines for daily school operations as the COVID-19 pandemic continues to address everything from when to return to school after exposure to the virus to how to perform safe field trips.
At the September 14 school board meeting, Acting Superintendent Keith Sutton said state law requires school boards to vote monthly on face mask requirements.
He added that Warren County schools are taking local, state and federal health advice and recommendations into consideration as the school system continues to adapt its response to the pandemic, particularly the Delta variant.
These guidelines are in addition to the school system's COVID-19 testing program and vaccine requirements for employees and student-athletes at Warren County schools.
"We have taken a very aggressive stance to keep our schools and our community healthy," said Sutton. "Our main goals are to keep schools open and to minimize exposure."
Face cover
Students of all ages are still required to wear face coverings indoors and on buses or other school transportation. Preschool students do not have to wear a mask to take a nap. However, the pupils should be spaced out as much as possible during the nap.
School staff are required to wear face coverings indoors, whether students are present or not. Face shields are not a substitute for face covers, but can be worn with them. However, when staff members are alone, they can remove their face masks.
Face mask requirements for central service personnel are roughly the same as those described for school personnel. The requirements state that when staff are alone in a booth or office, they can remove their face covering. However, if anyone approaches, they should put their face mask back on.
Isolation rooms
Each school in the district is required to designate an isolation room for students with symptoms that could be due to COVID-19. Each room will have a qualified guide.
Students are required to wear face coverings in the isolation room.
Students who are sick or showing symptoms of COVID-19
Students may be excluded from school only for the following symptoms of COVID-19 identified by the North Carolina Department of Health and Human Services:
• Fever or chills
• Cough
• Shortness of breath or difficulty in breathing
• Tired
• Muscle or body pain
• Headache
• New loss of taste or smell
• Sore throat
• stuffy or runny nose
• Nausea or vomiting
• Diarrhea
Students with these symptoms must have a negative COVID-19 test or other diagnosis in order to return to school.
For illnesses unrelated to COVID-19 such as earaches, rashes, or upset stomachs, schools should follow normal pre-pandemic guidelines for when students can return to school.
Exposure to COVID-19
Updated school system guidelines allow students and staff to stay in school if they are exposed to COVID-19 if they are fully vaccinated without symptoms or tested positive for COVID-19 in the past three months , have recovered and have no new symptoms.
Students can stay in school after exposure if face coverings have been worn appropriately (over the nose, mouth and under the chin) and consistently by the person with COVID-19 and the potentially exposed person .
Meal
The guidelines recommend that students eat out when possible. Sutton said he is working with schools to discuss options such as tents, picnic tables and rolling cafeteria tables.
Social distancing should be maintained as much as possible.
Students can only remove their face coverings while they are eating. The time that students do not wear face masks should be limited to 15 minutes.
School visitors
Schools are always encouraged to limit the number of visitors considered non-essential. However, individual schools can determine who they allow entry.
Visitors or volunteers must wear a face covering when inside. They should also wash their hands or use hand sanitizer and maintain physical distance as much as possible.
Excursions
Athletics, Hand, Vocational and Technical Education, JROTC, and other extracurricular events are covered by the Field Trip Guidelines.
Schools in Warren County will allow day trips with the following requirements:
• Face coverings should be worn indoors and on buses or other transportation related to school.
• Physical distancing should be practiced as much as possible throughout the excursion.
• Seating charts should be used for transportation, and students should not change seats at any time during the school trip.
• Students should be placed in small groups as much as possible.
• The school must ensure that students, staff and chaperones follow the guidelines specified on the field trip site.
Warren County Schools have suspended night excursions indefinitely due to continued spread of the Delta variant
Parent / Guardian Events
Schools can organize open houses and other events for parents / guardians and families virtually or in person if small groups attend at staggered hours.
If an event is taking place at school, those in attendance should wear face masks, practice good hand hygiene, and maintain social distancing as much as possible. Schools are requested to maintain attendance lists for the tracing of potential contacts.
Athletics, marching band, physical education, extracurricular activities
Face coverings are mandatory during indoor activities and training, as well as during indoor competitions, whether at home or away. Face coverings are optional on the outside.
Spectators at indoor sporting events are required to wear face masks. At outdoor events, masks are optional, but people should maintain social distancing as much as possible.
Learning for quarantined students
Schools must follow the attendance policy in cases where students are quarantined: • Daily communication with the student
• Access to learning resources on paper or online
• Students or families should not go several days without receiving one-on-one communication from their teacher (s).
Students will not be allowed to make up for missed homework for unexcused absences.
A pdf of the updated guidelines is attached.