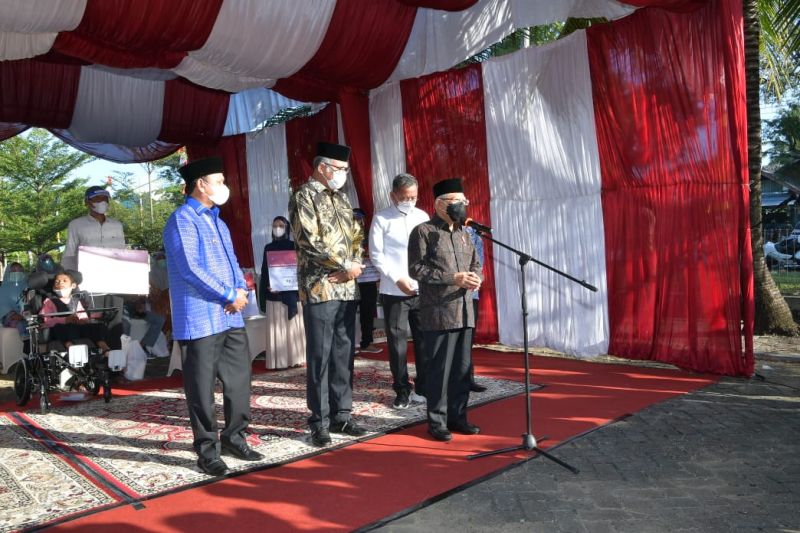 Vice President urges travelers to maintain health protocols during Eid exodus
Jakarta (ANTARA) – Vice President Ma'ruf Amin has urged residents participating in Eid al-Fitr return activities to be vigilant against COVID-19 infection by following health protocols while traveling in their hometown.
"This year, the government has allowed residents to resume back-to-Eid activities, but as the pandemic is not over, residents should exercise caution (when traveling)," the vice noted. -president in his press release received here.
Amin's remarks on Eid return activities came after he presented welfare packages to residents of Aceh's Besar district in Aceh earlier on Thursday.
The Vice President stressed that resident vigilance is essential to avoid transmitting COVID-19 to families and loved ones who would welcome travelers to their hometown and to prevent an increase in COVID-19 cases after the period ends. back from Eid.
"Many parties have estimated that around 70 to 80 million people will participate in the tradition of returning to Eid. People should exercise caution because in their hometowns they will meet their parents, relatives to health fragile and their children," Amin said.
Related news: Prevent unstoppable rise in COVID-19 cases after Eid: President
The Vice President also urged residents to take their COVID-19 vaccine and, if they have received their second dose of vaccine, to take the booster shot to help build herd immunity and protect against the virus. COVID-19 infection, especially during the Eid exodus. period.
"Residents are encouraged to maintain their health by adhering to health protocols and taking their COVID-19 vaccine, and (ensuring that) residents complete the second dose of vaccine and booster doses," it said. he noted.
The government is currently making efforts to improve national economic recovery and boost residents' productivity after the pandemic, Amin noted, adding that he is optimistic that the COVID-19 pandemic and its fallout will end soon.
Related News: National police hold meeting on preparations for Eid exodus