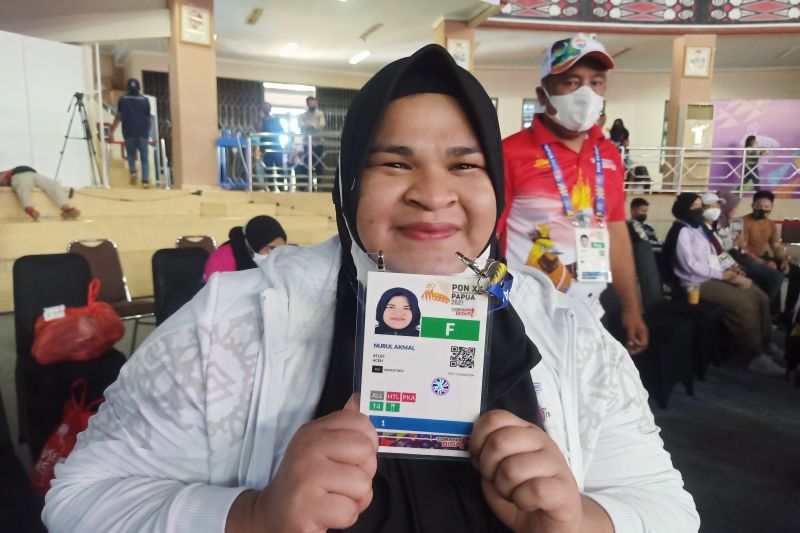 Strict health protocols applied to Papua PON: Olympic weightlifters
Papua (ANTARA) – Two Indonesian weightlifting athletes, who competed in the Tokyo 2020 Olympics, Eko Yuli Irawan and Nurul Akmal, claimed that health protocols were strictly enforced during the 20th National Games (PON) which took place. held in Papua.
"There were no spectators in Tokyo, but here in Papua, there are a lot of people. Yet health protocols are well followed," Akmal noted Friday at the auditorium of Cendrawasih University (Uncen ) in Jayapura.
The fifth strongest athlete in the +85kg category at the Tokyo Olympics noted that the PON committee was strict in implementing health protocols.
"I was only allowed to go to the site and to my hotel. I cannot go out elsewhere," she said.
According to Akmal, the Papuans have shown great enthusiasm in watching Papua PON matches despite the visitor capacity limited to 25 percent. Some fans also spotted her in the VIP seats at Auditorium Uncen and walked over to take photos together.
Thus, Akmal has always followed health protocols: wearing a mask, maintaining a distance and washing hands.
"I always take care of myself by following health protocols," she said.
Meanwhile, Tokyo 2020 Olympics silver medalist Eko Yuli Irawan said health protocols were more stringent at the Tokyo 2020 Olympics as they took place amid the peak of the pandemic that was affecting various country and also Indonesia.
"The Olympics had stricter regulations than here due to the second wave of COVID-19. However, the health protocols followed here are relatively good," Irawan informed.
The Irawan noted that various related parties in the site, accommodation and airport areas have made efforts to protect the PON contingents from the threat of COVID-19 in Papua.
During the Olympics, strict rules were put in place limiting the mobility of contingents, including rapid COVID-19 tests performed daily. No participant, organizer or volunteer is allowed to travel outside the Olympic zone, he explained.
Another mandatory rule is the wearing of a mask to prevent transmission by droplets. Masks can be removed outdoors and in hot weather. In addition, the permission to open a mask is also valid while eating and drinking, but at a distance of about two meters from each other, he later noted.
The Olympic Committee also asks all participants to wash their hands with soap as often as possible. This is especially important during breaks, before and after meals, after removing masks, after removing gloves and after interacting with each other.
Related news: Health protocols well applied at the Aquatic Arena: working group
Related News: Layers of Health Protocols Implemented at Rowing Site
Related News: Government to Tighten Monitoring and Evaluation of Health Protocols at PON