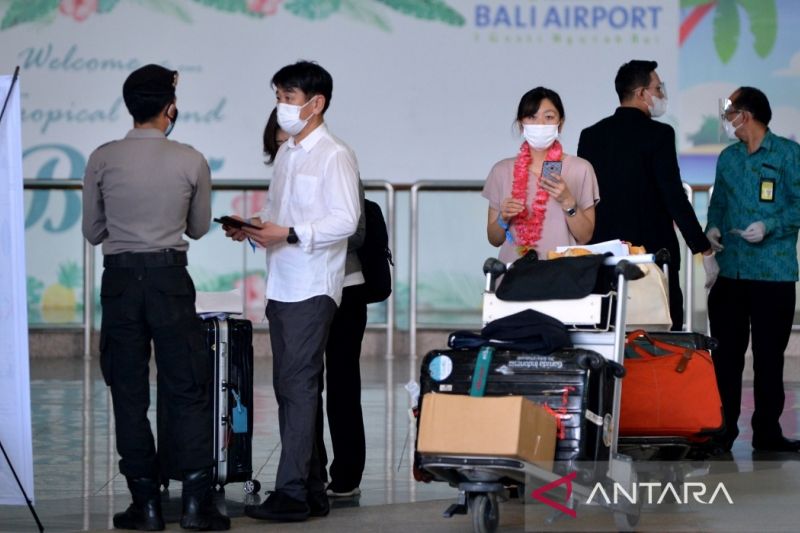 Sanitary protocols ensured for international arrivals at Bali airport
Badung (ANTARA) – PT Angkasa Pura I (AP I), which operates I Gusti Ngurah Rai International Airport in Bali, assured that strict health protocols are implemented for international arrivals to prevent the spread of variants of COVID-19.
On February 3, 2022, Bali airport served the first scheduled international flight after the pandemic. The flight, Garuda Indonesia GA 881, arrived from Narita, Japan, PT Angkasa Pura I (AP I) general manager Herry AY Sikado said.
"The processing process for the arrival of Garuda Indonesia's international flight yesterday was smooth. Passengers went through the process we prepared according to health protocols," he said on Friday.
AP I also ensured that all passengers who came to Bali from Japan followed strict health protocols, passed document checks and were cleared to fly, he said.
"The agents serving passengers have also used personal protective equipment and have already undergone an antigen test by the port health office," he added.
Regarding the international flight routes that are starting to open, Sikado said the airport operator has made preparations by optimizing the facilities and services at I Gusti Ngurah Rai International Airport in Bali.
"We hope that the reopening of international flights will open other international routes in Bali, depending on the needs of travelers," he added.
He also mentioned the possibility of opening other international air routes. On this issue, AP I will continue to engage with airlines and stakeholders and encourage them to add more international flights to meet passenger needs, he added.
"Of course, this effort will be conducted while prioritizing the implementation of health protocols during the COVID-19 pandemic," Sikado said.
Earlier, Marketing Assistant at the Ministry of Tourism and Creative Economy, Nia Niscaya, said the reopening of the international flight to Bali was aimed at restoring the economy, which has been affected by the COVID-19 pandemic. .
Related News: Minister Sumadi reviews arrival protocols at Ngurah Rai Airport
Related News: Two workers tested positive for COVID-19 upon arrival at Juanda airport
With the opening of international flights to Bali, the opportunity to boost the national economy through the tourism sector and creative economy will grow, she added.
"The decision to reopen international flights to Bali was taken with caution. The government has considered various risks and potentials of reopening international flights to Bali," she said.
Related News: Extensive research carried out after 9 airport agents contracted COVID-19