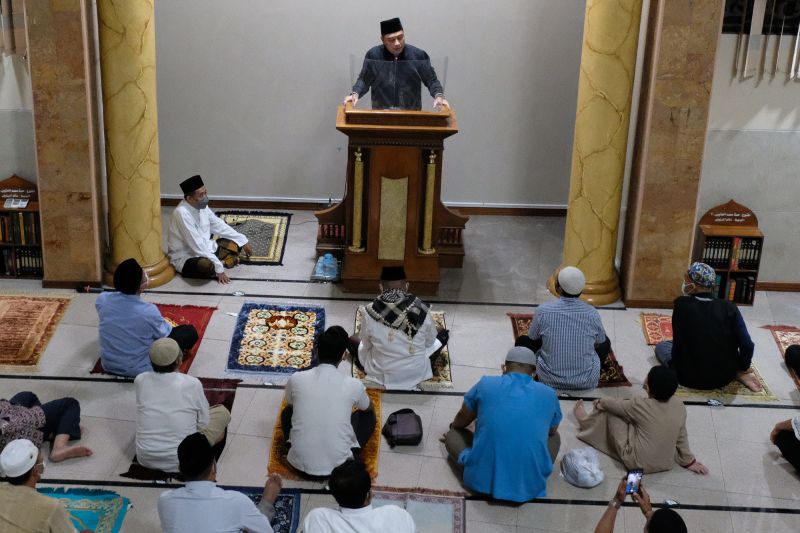 Ramadan: the mayor of Surabaya asks residents to respect health protocols
Surabaya, East Java (ANTARA) – Surabaya Mayor Eri Cahyadi has urged residents to continue to adhere to COVID-19 health protocols during the Islamic holy month of Ramadan, even as the government has eased several restrictions.
"We hope residents can maintain a sense of kinship and work together to implement health protocols during Ramadan," he said on Tuesday.
According to the mayor, through mutual cooperation and compliance with health protocols, residents of Surabaya will be able to carry out worship activities during Ramadan until Eid al-Fitr.
"I hope we can still perform Eid prayer in congregation later," he said.
Previously, the mayor issued the circular letter number 451/5599/436.8.5/2022 regarding the guidelines for the implementation of worship and public order during Ramadan 2022 and Eid al-Fitr.
Cahyadi said worship activities in mosques and musallas (prayer halls) should be carried out in an orderly manner, in accordance with COVID-19 health protocols, including wearing masks and washing hands with water. routine and soap or the regular use of hand sanitizers.
Then people who want to share free food for iftar and suhoor were asked to distribute it in mosques, musallas or social and religious institutions to avoid crowding, he said. .
The mayor also affirmed that the Surabaya city government is cooperating with the National Police (Polri) and the Indonesian Army (TNI) to provide security during Ramadan and the Eid period, including preventing public places of entertainment and recreation from violating rules regarding opening hours, preventing crowds, as well as taking preventive measures against criminal acts on public roads.
Related News: Ramadan momentum to speed up COVID-19 vaccinations: minister
Earlier, the Ministry of Religious Affairs issued Circular Number 06/2022 on Religious Activities in Places of Worship, allowing places of worship in areas under Level 1 Public Activity Restrictions (PPKM) to open at 100% capacity.
The circular also regulates the capacity of places of worship in Tier 2 and Tier 3 PPKM regions. According to the circular, the capacity of places of worship in regions with a level 2 PPKM has been capped at 75% and a level 3 PPKM at 50%.
Related News: Regional offices must issue fatwa on vaccination during fasting