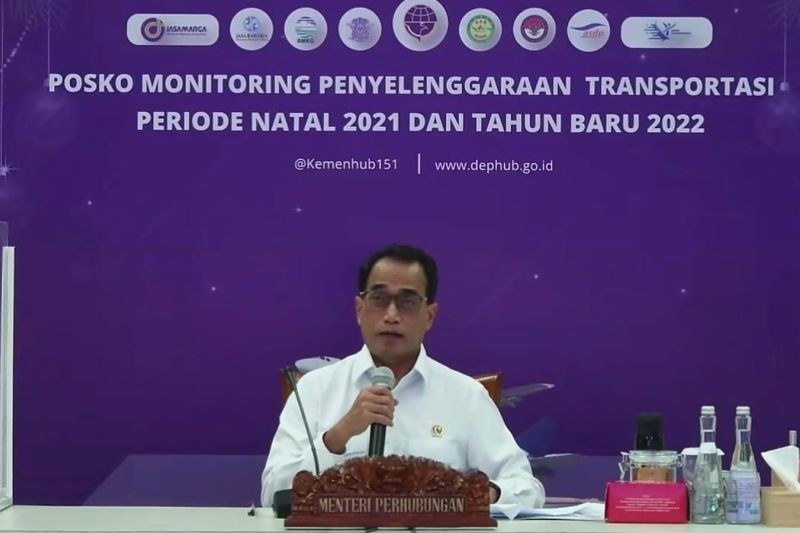 Public mobility follows health protocols during the end-of-year holidays
Jakarta (ANTARA) – Transport Minister Budi Karya Sumadi has said that public mobility during the Christmas and New Year holidays is observed in strict compliance with established health protocols.
"We thank the community. Those who traveled also implemented the health protocols," Sumadi noted when closing the transport watch post for the 2021 Christmas and New Years 2022 holiday period online here Tuesday. .
Overall, the Department of Transportation reported a 10% increase in community mobility by land, sea, air and rail, the minister noted.
Sumadi highlighted a 56% increase in community mobility in the rail sector compared to the period leading up to the Christmas and New Year holidays, while a 22% increase in the land sector, 10% in the air sector. and 1% increase in crossing modes of transport were recorded.
Related news: Minister prepares anticipatory measures against skyrocketing public mobility
Meanwhile, he noted that community mobility in the maritime transport sector had declined by 26 percent.
"All of these numbers show that people still love to travel, but we provide good service," Sumadi noted.
Coordination between ministries and institutions was provided by the Ministry of Transport, Indonesian Defense Forces / National Police, public transport sector companies, the National Disaster Mitigation Agency (BNPB), Search and Rescue Agency (Basarnas), the National Transport Safety Committee. (KNKT), Meteorology, Climatology and Geophysics Agency (BMKG) and local government.
The minister said the cooperation should prevent the transmission of COVID-19 and the emergence of new clusters during the Christmas and New Year holidays.
However, he also urged all parties, especially transport operators, to consistently apply the travel conditions rules stipulated in the Interior Ministry Instruction (Inmendagri), the circular letter from the COVID- working group. 19 and the circular letter from the Ministry of Transport.
"Looking at the trend, Insyaallah (God willing), there will be no increase in the number of (COVID-19 cases)," he said.
Related news: C Java: Sumadi chairs a meeting on public mobility control