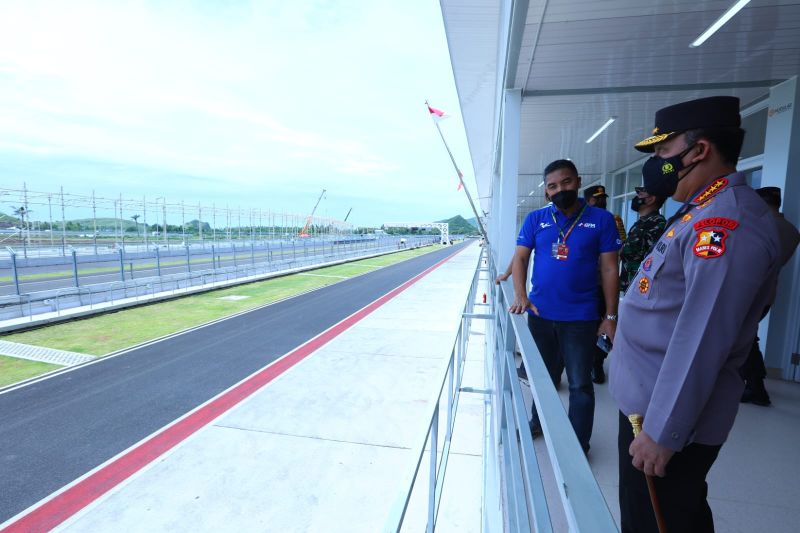 Police chief inspects safety and health protocols for MotoGP test
Jakarta (ANTARA) – National Police Chief General Listyo Sigit Prabowo conducted an in-person verification of safety and health protocols for the MotoGP pre-season test at Madalika Circuit, West Nusa Tenggara on Friday.
"We have directly checked the security preparations for the whole series of pre-season activities and the Pertamina Grand Prix of Indonesia MotoGP to be held in March," Prabowo noted, quoted in his written statement.
The police chief assured that he had solved all the problems that had arisen at the Mandalika circuit. The same applies to strictly enforced health protocols, from the gateways into Indonesia.
Sanitary protocols are in place at the accommodation sites and up to the location of the Mandalika circuit. Inspections ranging from documents to RT-PCR tests, daily antigen tests as well as zone boundary management for participants, officials and the public are also implemented.
Prabowo ensured that the travel bubble policy is implemented in accordance with the standard operating procedure (SOP), so that the event can be carried out safely and smoothly while taking into account the health of all participants. parties involved.
"We see that the travel bubble system to maintain health protocols is working well," he said.
The Chief of Police confirmed that up to 1,598 joint personnel from the Indonesian Army (TNI) and National Police (Polri) and other parties will be deployed to secure the event.
"Of course there will be further deployments (of personnel) appropriate to the security scheme and the threats they face," he said.
Related News: Forkopimda urged to handle COVID-19 cases ahead of MotoGP: police chief
He noted that the TNI and Polri as well as the Regional Leadership Coordination Forum (Forkopimda) and Mandalika MotoGP Field Coordinator Air Marshal (Ret.) Hadi Tjahjanto continue to conduct assessments for the smooth running of the official MotoGP test. 2022 and the Pertamina Grand Prix. from indonesia
"In general, I see that everything is going well. The assessment will continue to be carried out by the regional police chief in coordination with the field coordinator, so that all series of events can take place safely and that health protocols can be implemented as planned," he noted.
Related News: Government offers rent-free pits to local MSMEs at Mandalika MotoGP