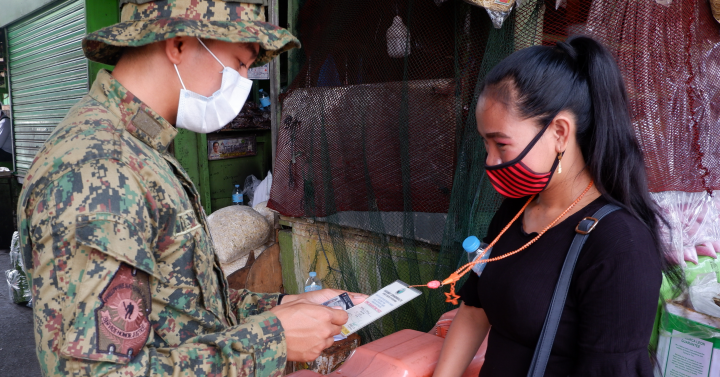 PNP braces for stricter health protocols in the NCR
MANILA – The Philippine National Police (PNP) is set to re-enforce the stricter health protocols against coronavirus disease (Covid-19) in Metro Manila from Monday.
This, after the Interagency Working Group for the Management of Emerging Infectious Diseases (IATF-EID) decided to place the National Capital Region (NCR) from current Level 2 to a stricter Alert Level 3 from 3 to 3. January 15 as the country experienced a spike in Covid-19 infections.
"Our mandate is to make sure the restrictions are properly implemented. We will also coordinate closely with the IATF and the LGUs (local government units), "PNP chief General Dionardo Carlos said in a statement on Saturday evening.
The Department of Health (DOH) reported 3,617 new infections on Saturday, a huge increase from just 288 new cases recorded on December 23, 2021.
The DOH has also confirmed 10 new cases of the Omicron variant, three of which have already been recovered.
Under Alert Level 3, facilities or activities must be allowed to operate or be undertaken at a maximum of 30 percent of the capacity of indoor sites for fully immunized persons only and 50 percent of the capacity. outdoor sites, provided that all workers in the establishments are fully vaccinated against Covid-19.
Intra-zonal and inter-zonal movements are still permitted, however, reasonable restrictions may be imposed by LGUs, which should not be more stringent than those prescribed in higher alert levels and subject to surveillance, monitoring and control. assessment of their respective regional IATF.
Persons under the age of 18 and those belonging to the vulnerable population will be allowed to access essential goods and services or to work in authorized industries and offices in accordance with applicable labor laws, rules and regulations. Individual outdoor exercise is also permitted for all ages, regardless of comorbidities or vaccination status.
All implementing agencies are responsible for ensuring that all protocols are followed and that minimum public health standards are met, especially in closed and overcrowded spaces and close contact activities.
Carlos said he expects the stricter alert level statute to receive criticism, but that police forces have a duty to enforce the restrictions, reiterating the importance of following minimum standards. public health.
He said security personnel in facilities can also serve as a force multiplier to ensure health protocols are strictly followed.
"Police personnel cannot be in all public places at all times. Given this limitation, the assistance of private security agents is a major asset, "he added.
Carlos, the PNP, is also ready to apply granular lockdown in specific areas with a relatively higher number of Covid-19 cases.
"It's a proven approach. The inhabitants of the district are the object of a great attention. The movement is controlled, but the possibility of the virus spreading is less, "Carlos said.
Meanwhile, PNP said its active Covid-19 cases have also increased to 52, with 14 new infections recorded bringing the total to 42,285 confirmed cases.
Police also recorded a new recovery, bringing the total recoveries to 42,108, while the death toll remains at 125.
All 215,764 PNP staff have been fully immunized while 8,809 have received their first dose and some 1,537 remain unvaccinated.
Carlos said they continue to provide useful information on the benefits of the vaccine to convince their unvaccinated staff to get their Covid-19 vaccines. (ANP)