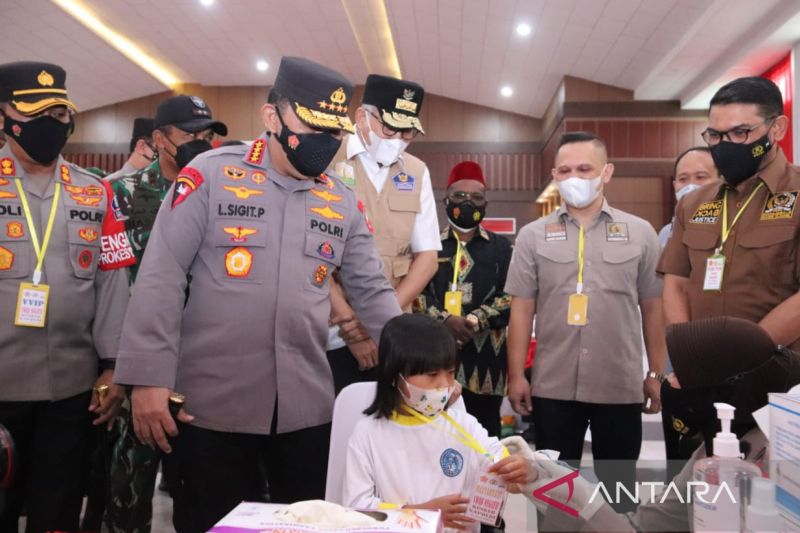 Follow health protocols and get vaccinated: Chief of Police
Jakarta (ANTARA) – Listyo National Police Chief General Sigit Prabowo has urged everyone to follow health protocols by limiting movement in addition to participating in vaccinations to prevent the spread of the COVID-19 Omicron variant.
Cooperation among all stakeholders, coupled with great public enthusiasm, will contribute significantly to efforts to resolve Omicron's issues, the police chief noted on Saturday.
Prabowo stressed the importance of vaccination apart from following health protocols. Those who had received their vaccines are required to limit their movements in order to reduce the transmission of COVID-19, he explained.
Prabowo delivered his remarks during his visit to observe a vaccination program at the Pidie Convention Center, Pidie District, Aceh on Saturday, February 26. It also observed other vaccinations in more than 6,441 sites across 34 provinces.
"Thank goodness we have just organized simultaneous vaccinations. Today we are observing the vaccination in person in the Pidie region. Today, five thousand people are targeted for vaccination in Pidie. Overall, the Aceh province is actively administering 67,000 doses of the vaccine. The national target is 1.5 million doses," he noted.
Related news: Speeding up administration of second and third doses of vaccine: police chief
The national police chief said the vaccination was an effort to boost people's immune systems. He also drew attention to the Ministry of Health circular that people can currently get the booster dose of the COVID-19 vaccine three months after the date they received their second dose of the vaccine.
Prabowo said vaccination was a necessary measure to reduce the death rate and death toll. According to a survey, the second dose of vaccination could increase immunity by up to 67%, while the third dose could increase it by up to 91%.
He recalled that Indonesia had recently been able to tackle the Delta strain despite a period of stagnation during which no positive developments had been observed. Judging from past experience, Prabowo was convinced that Indonesia could go through a similar phase if people were willing to work hand in hand.
He pointed out that the mortality rate caused by this variant was much lower than its previous counterpart. Nevertheless, it persisted and mainly spread to vulnerable groups or those who had not yet received the full dose of vaccine or who had comorbidities. So their goal became to vaccinate as many of the people in question as possible.
Prabowo expressed his gratitude to the public and the regional coordination forum for fighting together to stem the spread of COVID-19.
The National Police Chief also offered advice on bringing the COVID-19 pandemic under control in the state through an interactive dialogue conducted online.
Related News: Police chief reminds public to adhere to health protocols
Related News: Police chief aims for 100% vaccination of children within a fortnight