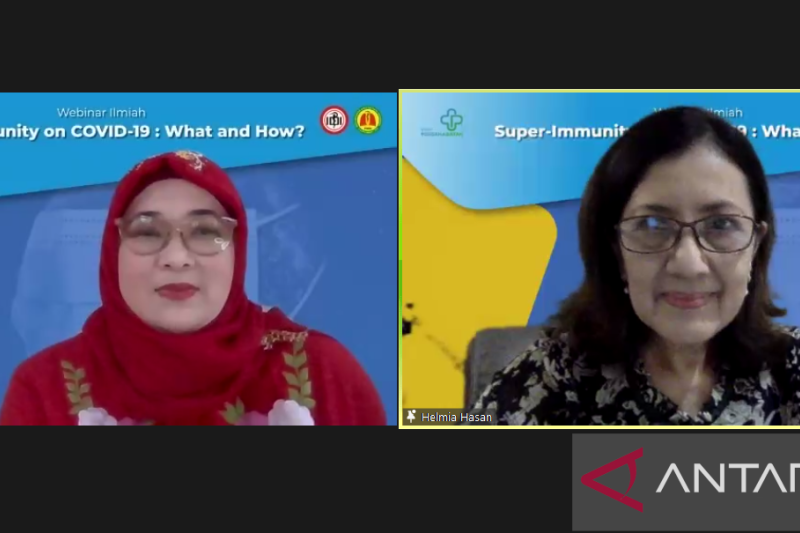 Essential health protocols despite hybrid immunity: expert
Combination of COVID-19 infection and recovery and vaccination results in higher antibody response
Jakarta (ANTARA) – Health protocols remain important to fight the pandemic despite the development of hybrid immunity in people who have recovered from COVID-19, an academic has said.
The term hybrid immunity is more appropriate than super immunity, which is commonly used in public discourse, to describe immunity developed from two sources: natural infection and vaccination, observed pulmonologist and member of Airlangga University Faculty of Medicine, Dr Helmia Hasan .
"The combination of COVID-19 infection and recovery and vaccination leads to a higher antibody response," Hasan said in an online chat on Saturday.
Theoretically, someone who has recovered from COVID-19 and then received the COVID-19 vaccine will have a low risk of repeat infection, she added.
Related News: Minister pushes for public to continue to comply with health protocols
Natural infection and vaccination create neutralizing antibodies which become the primary protection against COVID-19, the academic noted.
Those who have developed hybrid immunity will see their memory B cells – which function to memorize the characteristics of foreign substances to produce antibodies – increase five to ten times compared to those who have been immunized only by natural infection or vaccination, a- she explained.
Neutralizing antibodies in people with hybrid immunity will be 100 times higher than in people without hybrid immunity, she added.
Related news: Follow health protocols amid increased public mobility: Spokesperson
"A person with hybrid immunity will rarely suffer a severe symptom and be reinfected with the same disease compared to people who do not have hybrid immunity," the pulmonologist said.
Despite the prevalence of hybrid immunity in some sections of society, Hasan reiterated the importance of health protocols, saying new variants of COVID-19 could compromise hybrid immunity and cause infection.
"We have to maintain our health protocols because we have no idea about antibodies or cells inside our body. Therefore, to prevent re-infection, we need health protocols," she said. points out.
Related News: VP supports rider Mario Aji for Moto3 GP
Related news: Ensuring COVID-19 vaccine benefits for children: expert