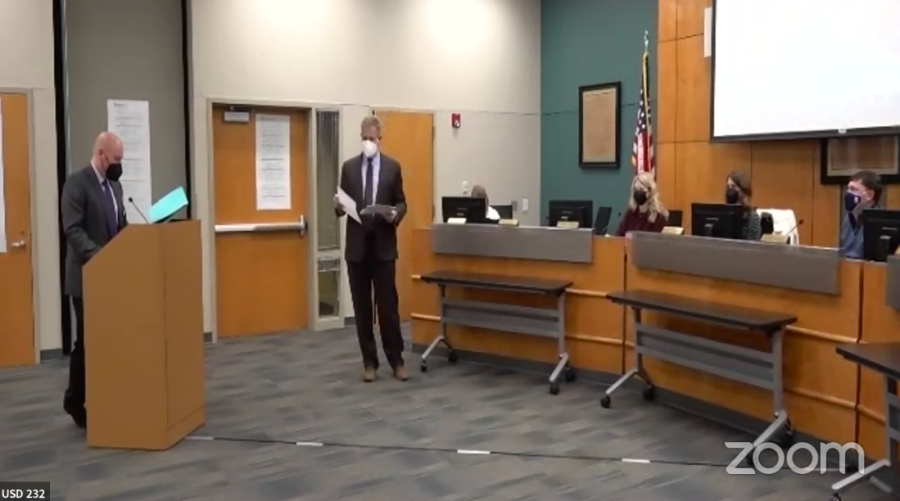 Council discusses updated health guidelines and return of high schools to masking – Mill Valley News
Board members also received updates regarding the 'Test to Stay' program and COVID-19 staff leave policy.
The school board received an update from Health Department Superintendent Frank Harwood and discussed a return to high school masking as cases of COVID-19 in Johnson County increase along with an update on the "Test to Stay and Learn" program at their Monday, January 10 meeting.
In a powerpoint presentation, Harwood explained to the council that the COVID-19 positivity rate in the district had increased "dramatically" since the week of December 13, triggering the reinstatement of the mask's tenure at the high school level for at least two consecutive weeks.
"The average daily attendance for the week of January 5 was the lowest on record since November 2020," Harwood said. "There is a sharp increase in exclusions for recommended isolation and quarantines. [Among students], only two quarantines and one isolation from last week are considered school-related, most of these cases coming out of vacation.
He added that vaccination rates among 12 to 17 year olds have seen a steady increase since the start of the school year, placing the district at "around or a little above" the county average for vaccinations against. COVID-19.
Sharing new information on staff absences and replacement fill rates, Harwood said the recent increase in staff absences is creating a "disruption of various things."
"In 2019, our replacement fill rate would be well above 98% of teachers. Harwood said. "In November of last year, available subscriptions started to drop quite low with fill rates ranging between 60% and 70%. For the 2021-2022 school year, we had low fill rates until we increased the sub-rate, which resulted in an increase in the fill rate. "
Two people spoke during the clients' intervention, one urging the board to get rid of the mask mandate at the elementary, middle and high school levels. The other patron, Emily Valdez, a member of the De Soto Teachers Association, has "respectfully" requested an extension of up to 10 days for COVID-19 paid leave for all certified and classified staff, citing the 'addition as'adhesive action that the board can take to support its employees in need.
"Our staff members bear the brunt of this increased risk of exposure when they show up each day to ensure our schools remain open, "said Valdez. "Many of our employees believe that it is fundamentally unfair to shift this financial burden onto employees, just as the risk to these employees increases through no fault of their own. "
Harwood also offered updates on guidelines for recommended quarantine and isolation. On January 4, the recommended isolation period for those infected was reduced to five days if they are asymptomatic or if their symptoms disappear, followed by five days of wearing a mask when others are present. The recommended quarantine period for susceptible people has been shortened to five days, followed by strict mask use for an additional five days.
He also informed the board of the "Test to Stay and Learn" program – which is part of the new JCHDE health guidelines – stating that students and staff can continue to attend school during quarantine. recommended five days. Testing will take place during the first five days and strict use of the mask is required for the 10 days. Additionally, Harwood explained how the board would approach changing the COVID-19 leave policy for staff.
The board also recognized the Silver Stars as consecutive 5A State Champions, as well as Denise Reihnol and Sarah Lennon of Prairie Ridge Elementary, as well as Callie Guth and Shawnda Toland of Monticello Trails as part of the " staff recognition "of the meeting.
The next regular board meeting is set for Monday February 7th.
(Visited 108 times, 108 visits today)