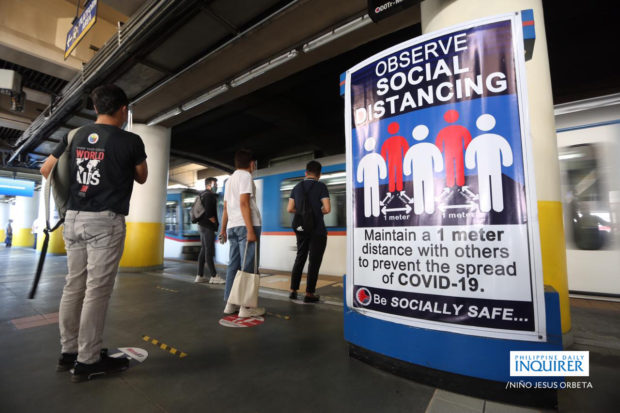 Continue to follow health protocols to avoid resurgence of COVID-19, Duterte tells public
MANILA, Philippines – Continue to follow government-established health protocols to avoid a new wave of COVID-19 cases, President Rodrigo Duterte reminded the public in his recorded weekly speech which aired late Monday evening.
Duterte acknowledged the declining trend in COVID-19 cases nationwide, including the positivity rate and healthcare utilization.
"COVID-19 cases are on the decline. They descend everywhere [nationwide]. It's up to us to really make sure they don't increase again, "he said, speaking in a mixture of Filipino and English.
"Just follow[thehealthprotocols…WhatIknowifwefollowtherereallyisaresultinggoodthatwouldhappen"headded[thehealthprotocols…WhatIknowifwefollowtherereallyisaresultinggoodthatwouldhappen"headded[lesprotocolesdesanté…Cequejesaissinoussuivonsilyavraimentunbienquienrésulteraitquiseproduirait »a-t-ilajouté[thehealthprotocols…WhatIknowifwefollowtherereallyisaresultinggoodthatwouldhappen"headded
Duterte also noted how the economy was still able to improve in the third quarter of 2021 despite the lockdowns.
He also pointed out that the country's vaccine supply has stabilized and encouraged Filipinos to get vaccinated.
He said he sees an improvement in Filipino lifestyles by Christmas and that the government should aim for minimal or no transmission of COVID-19.
"Our supply is pretty good. We are good, but it is not yet enough. But we still have a supply, "he said.
"If I can have the cooperation of all Filipinos, our country will improve in one way or another and hopefully by Christmas we are targeting at least minimal or no spread of the virus. here in our country, "he added.
AT M
Subscribe to our daily newsletter
Read more
To subscribe to REQUEST MORE to access The Philippine Daily Inquirer and over 70 other titles, share up to 5 gadgets, listen to the news, download from 4 a.m. and share articles on social media. Call 896 6000.