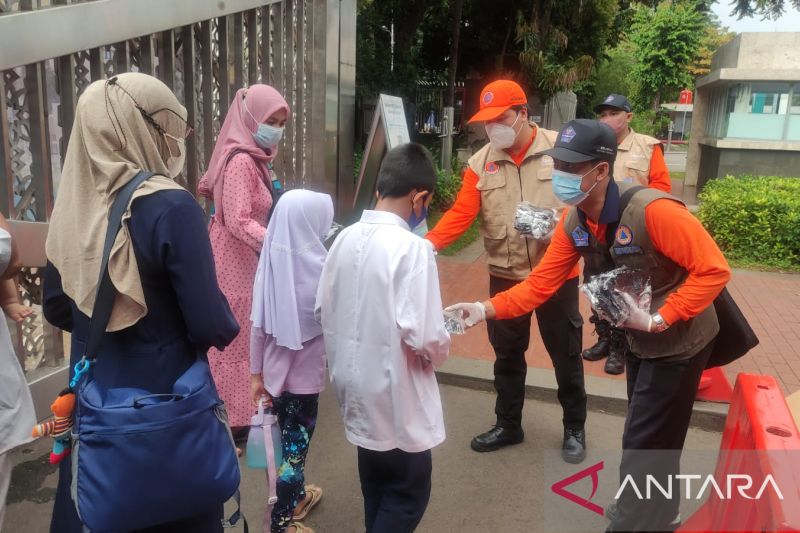 BNPB distributes free masks in mosques to reinforce health protocols
This activity aims to reinforce people's health protocols (compliance), so that they can offer prayers comfortably
Jakarta (ANTARA) – The National Disaster Mitigation Agency (BNPB) has distributed thousands of free masks to people around the areas of Istiqlal Mosque, Jakarta, and Bogor Grand Mosque, West Java, to reinforce COVID-19 health protocols during Ramadan.
According to a written statement received here on Thursday, the BNPB has involved the Regional Disaster Mitigation Agency (BPBD) of the two regions in the distribution of the masks.
The distribution of masks was conducted for three days at the Istiqlal Mosque from April 4 to April 6, 2022. No less than 23,000 masks were distributed at the mosque, targeting the congregation of the mosque, vendors around the mosque, the mosque administrators and visitors.
"This activity aims to reinforce people's health protocols (compliance), so that they can offer prayers comfortably. In addition, it will prevent the transmission of the COVID-19 virus between people, both in places of worship and in the surrounding environment," said Abdul Muhari, Acting Head of BNPB's Data, Information and Communications Centre.
Additionally, Muhari noted that the agency distributed five thousand masks to the Grand Mosque in Bogor City, West Java, from April 5 to 6, 2022, targeting the mosque's congregation and administrators, as well as residents around. the mosque.
For the Islamic holy month of Ramadan, the Ministry of Religious Affairs had previously issued a circular regarding health protocols during worship activities. The circular regulates the provisions relating to worship activities of the congregation, such as tarawih prayer, daily obligatory prayers and Itikaf, which are implemented always taking into account the maximum capacity.
The circular allows places of worship in areas under Tier 1 Public Activity Restrictions (PPKM) to open at 100% capacity.
The circular also regulates the capacity of places of worship in Tier 2 and Tier 3 PPKM regions. According to the circular, the capacity of places of worship in regions with a level 2 PPKM has been capped at 75% and a level 3 PPKM at 50%.
Related News: Indonesians urged to continue wearing masks during Ramadan
Related News: Bangka Belitung Islands Police to Distribute 100,000 Free Face Masks
Related News: BNPB distributes free face masks at 47 locations in Jakarta