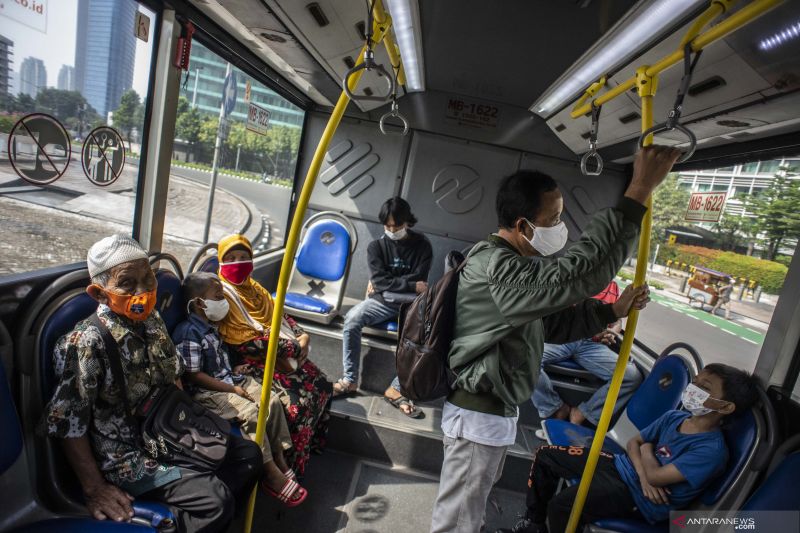 Be vigilant, follow health protocols when traveling, Indonesians say
Jakarta (ANTARA) – The public should continue to follow health protocols, especially when traveling by public transport, to reduce the risk of an increase in COVID-19 cases.
The statement was made by the Minister of Communication and Informatics Johnny G. Plate regarding the relaxation of PPKM (restrictions of public activities) in Jakarta to level 2.
With the easing, the limits on the number of public transport passengers were lifted, he noted.
"We must remain vigilant to avoid the risk of a spike in cases. This (spike in cases) is already happening in European countries such as the UK and Russia," Plate said in a press release here on Saturday.
The community began to conduct economic activities and move around using public transport such as the commuter line (KRL), rapid transit (MRT) and buses, he noted.
Related news: Minister guarantees access to COVID vaccination for indigenous Baduy people
The Jakarta provincial government no longer limits the number of passengers on public transport, he added.
The regulation is stipulated in the Decree of the Governor of Jakarta No. 1245 of 2021 regarding the PPKM Level 2, which will be valid from Tuesday, October 19, 2021 to Monday (November 1, 2021).
Although the capital's public transport has been allowed to operate at maximum capacity, the maximum capacity of the commuter line (KRL) is still capped at 32%, the minister said.
This is a reference to Circular No. 89 of 2021 issued by the Ministry of Transport, which was applied from Thursday, October 21.
Related news: COVID: Indonesia prepares for due diligence
The circular letter regulates the maximum capacity of intercity rail passengers, the commuter line and local trains, Plate said. The maximum capacity for intercity railways has been set at 70 percent and for KRL and local railways operating in the built-up area it is 32 percent and 50 percent respectively.
Minister Plate also explained that the relaxation of community activities in Jakarta was being considered due to the drop in COVID-19 cases and the significant vaccination coverage in the Jabodetabek region (Jakarta, Bogor, Depok, Tangerang and Bekasi ).
"The government urges the public to be disciplined in the application of health protocols during activities and travel," he said.
Related News: Government Lowers Jakarta PPKM to Level 2
He also reiterated that wearing a mask is very important to prevent droplets from the nose and mouth being expelled into the air. The SARS-COV-2 virus is not visible to the naked eye, so the use of masks is a form of protection for oneself and for others, he explained.
For maximum protection, people should continue to wear double masks, he said. When choosing masks, one has to consider whether they have good filtration, fit the face, and allow comfortable breathing, he added.
Related news: All regions must anticipate transmission of COVID in schools: DPD speaker
Related News: South Jakarta Government To Reopen 15 Open Green Spaces