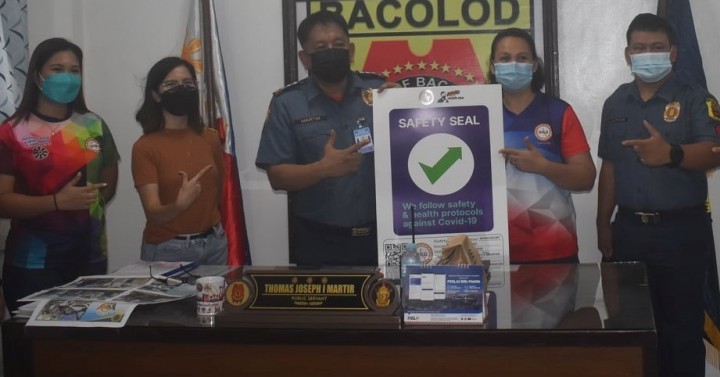 Bacolod Police HQ complies with Covid-19 health protocols
THE CITY OF BACOLOD – The Bacolod City Police Office (BCPO) received the security seal certificate for compliance with minimum coronavirus disease 2019 (Covid-19) health protocols on Friday.
The seal was awarded by the Department of Home Affairs and Local Government (DILG) after the BCPO passed the on-site inspection of its headquarters offices and staff.
Colonel Thomas Joseph Martir, Director of Municipal Police, welcomed the security seal certification which indicated the local Philippine National Police's adherence to Covid-19 health and safety protocols.
"As pioneers in the fight against this deadly disease, BCPO's goal has always been to help end this pandemic," the BCPO chief said in a statement.
Martir received the security seal certificate from May Theresa Malongayon, Local Government Operations Officer VI and On-Site Team Leader, in the presence of other members of the DILG Inspection Team and the Counter Protection Office. fires.
"It could also pave the way for more programs and activities to strengthen crime prevention measures and projects focusing on the strong relationship between the police and the community," he added.
The team of inspectors assessed the BCPO offices and premises for compliance with the checklist, including the presence and use of alcohol, body temperature scanning and proper wearing of a face mask at all times.
They also checked the cleanliness of the offices and the respect of social distancing inside the offices and other closed spaces.
The security seal certification program under the Interagency Task Force on Management of Emerging Infectious Diseases Resolution 87 aims to increase compliance by private or public entities with minimum public health standards set by the government and seeks encourage the adoption and use of Stay safe.ph digital contract tracking app as well as boost consumer confidence as the government safely reopens the economy. (NAP)