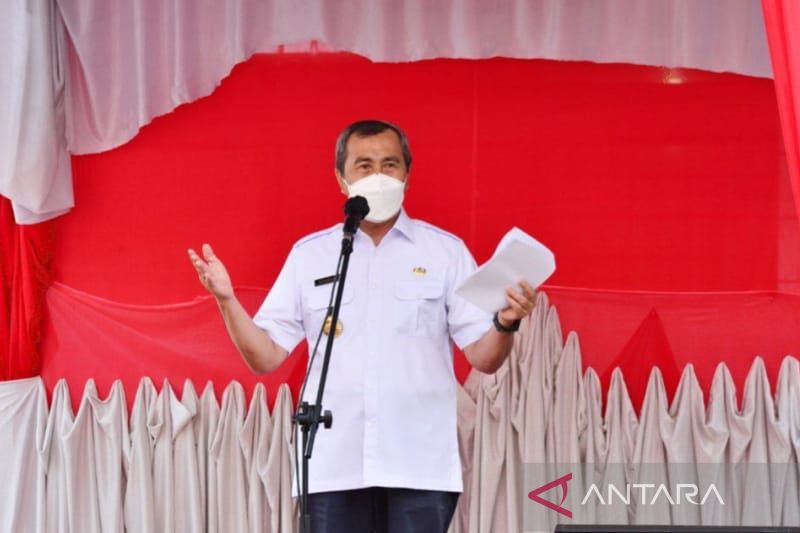 After the detection of Omicron, the Riau government calls for a tightening of health protocols
Citizens should not panic over this discovery. What is important is that we maintain the health protocol together
Kota Pekanbaru, Riau (ANTARA) – Riau Governor Syamsuar has urged residents to tighten the implementation of health protocols after a patient in Pekanbaru was confirmed to have contracted the Omicron variant of COVID-19.
Based on a lab examination in Batam, Riau Islands, a resident of Pekanbaru was confirmed with Omicron infection, it noted here on Saturday.
He then called on the population to participate in the vaccination program to prevent a massive spread of infections.
Health protocols must be followed by the population, which include wearing masks during activities, washing hands diligently, maintaining distance and avoiding crowds, he said.
Earlier, Acting Chief of Riau Health Office Masrul Kasmy informed that Pekanbaru Omicron's patient was traveling to Batam on Wednesday when he took a swab test which came back positive.
"We have received the letter from Batam, which we forwarded to the Pekanbaru health office and the KKP," he informed.
"To this end, we have asked the Pekanbaru Health Unit to track the presence of a resident of Pekanbaru who was detected with Omicron," he said.
Related news: No need to panic over the third wave of the pandemic
Once the patient is followed, research and tests will be carried out on all the people who came in close contact with the patient, he added.
"To break the chain of infection, we will definitely do tracing and testing. We don't know exactly where the patient lives and we leave it to the municipal government to locate the patient," he said. .
"Citizens should not panic in the face of this discovery. What is important is that we maintain health protocols together," he remarked.
As of Wednesday, the number of Omicron patients in Indonesia had reached 1,988, he noted.
Related News: Singapore citizen in Batam infected with Omicron